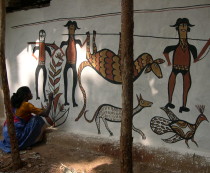 The International Campaign
An appeal to save the threatened Sanskriti Centre, Hazaribagh, Jharkhand, India
As you may know I have spent my whole life to protect the cultural heritage and indigenous rights for Jharkhand which led to my receiving the Gandhi Peace Award 2011. My work began in a small painted mud house of Khovar and Sohrai affectionately known to the world as "Sanskriti", along with a small museum of archaeology and a tribal art gallery with an office of research archives and library in Hazaribagh. An application by claimants has been made to the District administration Hazaribagh for permission to sell a plot of land that is a government leasehold land, and is part of the Sanskriti Centre. There is thus an imminent threat to the Sanskriti Centre by property developers destroying the living heritage that Sanskriti represents for the state of Jharkhand, and in a wider context, of India. The Sanskriti land, apart from being (a) Waqf Trust land, is (b) government Lease-hold land and the government can therefore refuse permission for its sale.  I request you to write to Mr. Raghubar Das, Chief Minister of Jharkhand secretarytocmjharkhand@gmail.com, requesting him to order the Hazaribagh administration to refuse permission for the sale, and declare it a state heritage site.
Thirty years ago in 1987, I joined the Indian National Trust for Art and Cultural Heritage (INTACH), as the Convener of the Hazaribagh Chapter, and began my campaign to establish the Indigenous rights and cultural heritage of Jharkhand's tribes when my focus was on their cultural prehistoric and proto-historic roots in this great land. My researches led me to the discovery of an uptil then hidden great pre-historic culture in my region in Jharkhand. In 1991 I brought to light the first rock-art site of Jharkhand at Isco dated to the Meso-Chalcolithic, and later thirteen more rock art sites which have been documented by Indira Gandhi National Centre for the Arts (IGNCA), and dating was done by S.B.Otta of Archaeological Survey of India (ASI) and authorities like Erwin Neumayer of Vienna, and surveyed by many important research scholars.  I founded the Tribal Women Artists Cooperative (TWAC) in 1993 when I found a continuity between the painted rock-art and painted village houses. The painted mural art I called Sohrai as it was done to decorate the village houses during the harvest season, and comb cut art of the marriage season painted on the village mud houses I called Khovar after the marriage room (kohbar).
In the vicinity of these painted shelters I found a wide variety of Lower and upper Paleolithic stone tools, and habitation sites of Neo-Chalcolithic, Microlithic, Copper-Bronze, Iron, pottery and terracotta  deposits, and artifacts of all of types which I put in a museum along with bronzes, Buddhist relics. The entire archaeological collections from over a hundred sites are in the Sanskriti museum, along with an art gallery with Khovar-Sohrai paintings, and the embroidered quilts (ledra) gallery. The Sanskriti mud house where Putli lives is a home for artists and is repainted each Dusshera festival for the Divali and Sohrai.
The results of my researches have been detailed in my book Antiquarian Remains of Jharkhand, published by INTACH with Aryan Books International, New Delhi, 2014. In the meantime the Sanskriti archives were filled with thousands of photographs, research papers, volumes of books, as well as films. I was helped by several organizations and individuals to whom I am thankful, especially the Australian and British High Commissions, New Delhi. In the last two decades TWAC has held over fifty international exhibitions in major art galleries and museums around the world, and the women artists have painted several murals in Australia, France, Germany, Switzerland, Austria, Italy and UK with the support of several friends, and different universities. The Tribal women's artists Cooperative and the painted Sohrai village mud houses have become a familiar banner of Jharkhand's tribal heritage.
Sanskriti is now a living Cultural Centre to which thousands of research scholars from India and abroad come to find evidence of Jharkhand's rich cultural heritage. It is a centre where literally thousands of original research papers in context of photos and material artifacts may be found in the atmosphere of a painted tribal village where arts and crafts flourish. It is known to all scholars as a place of Jharkhand's home of vernacular tribal arts and crafts and culture and students from BHU, AMU, Deccan College, Calcutta University, Oxford University, University of East Anglia, Casa Nuova Univ., Venice, Univ. of California (Berkeley), have sent students to Sanskriti for researching MPhil through the Sanskriti Research Archives and field work conducted by the Sanskriti Centre. It is recognized as a Centre of excellence with an international ambience. Sanskriti has a vast archive of research papers, manuscripts, photo library, and a good reading Library, as well as residential facilities.
We appeal to you to help us to save this priceless resource of our Common human heritage. We request you to write in our support to: Shri Raghubar Das, Chief Minister of Jharkhand, Ranchi, email: secretarytocmjharkhand@gmail.com. I would be grateful if you could copy your letter to me.
And also sign the online petition on Change.org to save the Sanskriti Centre, Hazaribagh – click here
I sincerely hope that you will support us because even a few lines from you will mean much for our campaign to save our beloved Sanskriti for posterity.

Bulu Imam